Last year's Galaxy  A51 was one of the best-selling Android phones of 2020 and today I have its successor the Samsung Galaxy A52. And I will share with you the Samsung Galaxy A52 First Impressions.
I've been using this phone for the past day and here are my initial impressions of this device. I have also published an Impressions article on the Samsung Galaxy A72 which you can check here: Samsung Galaxy A72 First Impressions
Okay coming from last year's A-series the biggest Change that the companies made are in the design language itself this time Samsung has gone with a smooth matte finish and a reworked camera module that looks inspired by the company's own Galaxy S 21 Series. So yeah, it makes a unique statement for itself in terms of visual Flair and it also comes with some gorgeous pastel color options making it one hell of an attractive looking phone. I'm also quite fond of its lightweight build quality and with holy, just around the corner, the bigger design winner of the Galaxy A52 has to be its IP67 dust and water resistance, which is something of a rarity on similarly price smartphones.
Overall. I think Samsung has really nailed the design side of things here is especially considering the phone's demographics the display also sees a healthy upgrade.
It has 6.5 inches of FHD Super AMOLED panel within 90 hurts refresh rate as a result browsing the web or scrolling through the UI has been a treat so far.
The front of the phone has been protected by Gorilla Glass 5, which is good enough to still in all it. Would have been even better if Samsung had included a much smoother 120 HZ panel here since you get the cheaper Redmi Note 10 series with higher 120 HZ refresh rate screens also unlike the variable refresh rate found on Samsung's flagship phones. This phone cannot dynamically adjust the screen refresh rate based on the content.
Anyway, from what I can tell this display looks excellent with great colors and contrast the display can go up to 800 nits bright. So viewing content even in a sunny environment is not a problem likewise you also get SGS certified eye comfort feature that goes easy on the eyes and makes looking at the phone at night a nonfat teaching experience.
Okay as expected. It comes with a WIDEVINE L1 certification.
So you can enjoy HD content from different streaming sites, like Netflix and Amazon Prime video on top of this A52, also has a stereo speaker setup. So watching shows and movies is quite enjoyable.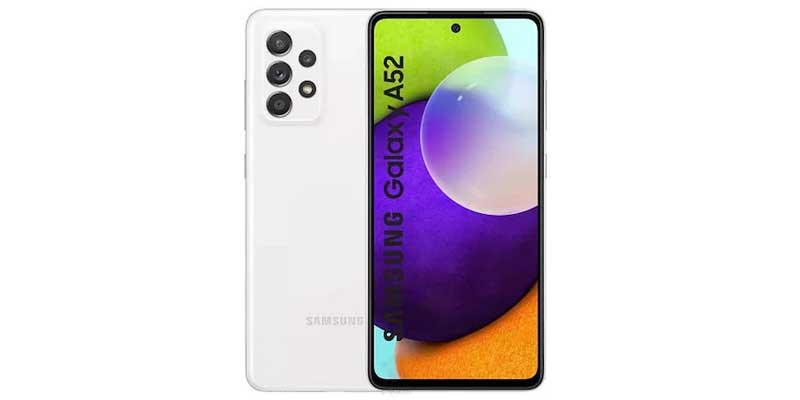 You also get OLED Centric features like an always-on display and optical in-display fingerprints sensor here and like always Samsung's implementation of the fingerprint sensor is not that fast and requires a rather firm pressure to work instead of this mediocre biometric option, to be honest. I would have rather preferred a side-mounted fingerprint sensor.
Now for performance, the 4G variant of the Galaxy A52 comes with Qualcomm, Snapdragon 720G soc.
Although the CPU-z app mentioned Snapdragon 732G. So it is possible to assume that the phone chips with Snapdragon 720 G in some regions.
While there is also another Snapdragon 732 G-powered variant of the Galaxy A52 4G.
This might be because in 2021 smartphone brands are feeling the heat of global chipset shortage on revaluated news siting the very same reason Samsung has postponed the launch of its Flagship Note 21 series till 2022.
Anyway compared to the Exynos 961 one in its predecessor the Snapdragon 720 G or the 732G chipset offers a major jump in performance and what I Can say for now is that things look pretty good here. And Samsung has optimized it really well juggling through a couple of apps like Facebook Chrome Spotify and Camera the multitasking experience has not let me down.
I also tried playing a couple of demanding games and the results were pretty satisfactory Call of Duty mobile plays smoothly at high graphics and Max frame rates, on the other hand, PUBG Mobile is also playable at smooth graphics and Ultra frame rates with my limited time with the phone. I haven't gotten a chance to extensively test out its gaming capabilities.
So for that stay tuned to our full detailed review in terms of memory. You can choose from either 4, 6, or 8 GB of RAM while all of them share 128 GB of internal storage the phone runs on one UI 3.1 based on Android 11 out of the box and you might already know how much I adore this Android skin from its dark mode implementation customization options to the Google feed embedded home screen.
It's good to see Samsung do so well in the software department. Besides the company's commitment to providing three generations of os and up to four years of security upgrades is an incredibly welcome move with that out of the way. Let's now talk about the cameras Galaxy A52 features a similar quad-camera setup like the A51 but with an upgraded 64-megapixel sensor likewise, you get a 12 megapixel ultra-wide a 5-megapixel macro, and a 5-megapixel depth-sensing camera apart from this Samsung has been generous enough to include OIS on the primary camera this time around usually at this price you only get EIS so it's great to see OIS at this price segment with that. Its videos, even at 4K resolution have good stabilization, but just like the A72, you don't have the option to click videos at 60fps images from the primary camera our classic Samsung stuff. They are Punchy with plenty of details apart from the color science. The pictures have a good dynamic range too, the ultra-wide-angle images just like the primary ones have Punchy colors and good details, and although the A52 has a separate 5-megapixel depth sensor.
Its images are very similar to the A72 which does not have one. On the front, the 32 megapixels selfie shooter remains unchanged.
However, the quality seems better here the pictures have a slightly warmer color tone but look good nonetheless. The same goes with the portrait selfies as well.
Now getting to the battery Galaxy A52 comes with a bigger 4,500 mAh cell with support for 25-watt fast charging, which is a decent upgrade over the four thousand milliamp hour and 15-watt charging from the A51.
However, unlike the A72 Samsung only ships with a 15-watt charger inside the Box on the Galaxy A52.
So that was all for my early impressions of the Samsung Galaxy A52 4G with its revamped design and upgraded internals.
This definitely is a healthy upgrade over the Galaxy A51.
It is going to be interesting to see how it competes against the Redmi Note 10 Pro Max and the Realme 8 Pro in terms of cameras, which I feel is one area where the A52 might have an edge, but for that me along With my team will be testing it further and will come up with the full review of this device.