Hey, what's up, guys? I hope you're doing well. I am going to share with you the new Samsung Galaxy A72 First Impressions, So Samsung has just announced its latest Galaxy A series smartphones the Galaxy A52 and the Galaxy A72.
And in this article, I am going to be talking about my initial impressions of the Samsung Galaxy A72 4G. I don't have the pricing details of the phone yet, but rumors suggest that it will cost around 39,000 BDT for the 128 GB variant, which makes it a premium mid-range phone. Okay, the first thing that I like about this device is its design and color choices.
I have this blue variant with me that looks quite refreshing while the A32 had a glossy back the A72 gets a smooth matte finish the camera module here merges with the rear panel and has this seamless finish that looks unique and I quite like it honestly traditionally Samsung's A-series smartphones have never disappointed when it comes to design and the Legacy continues with the Galaxy A72 as well likewise despite carrying a big five thousand milliamp-hour battery inside.
It looks and feels pretty sleek, And even though it occupies a large area in your hands Samsung has managed to make the phone lightweight to not to forget it also comes with premium features like IP67 dust and water resistance and does our speakers.
I haven't tried submerging the phone in water just yet. But from my preliminary test it stereo speakers sound. Really good. Okay moving on the display size Remains the Same as last time.
However, its 6.67 inches Super AMOLED plus screen now comes with a higher 90Hz refresh rate replacing the 60-hertz panel in its predecessor.
Although this definitely is a significant upgrade. I was hoping that Samsung would use a 120 HZ refresh rate screen here.
Also, unlike the variable refresh rate found on its Flagship smartphones this phone cannot dynamically adjust the screen refresh rate based on content.
Anyway, from what I Tell this is an excellent display to look at it is an excellent panel with great colors and contrast levels.
The touch response of the screen is very good as well with up to 800 nits of brightness outdoor visibility is no issue for the Galaxy A72 likewise. Its SGS certified eye comfort feature makes looking at the phone at night a non-fatigued experience. As expected There is Widevine L1 certification so you can enjoy HD content in Netflix and Amazon Prime Video.
And with its stereo speaker setup watching shows and movies is quite enjoyable likewise, you get an optical in-display fingerprint sensor here, which is not the fastest but gets the job done apart from that you get the usual stuff like dark mode and always-on display on the Galaxy A72 while the design and display a pretty impressive.
The one upgrade that I was really looking forward to was in the performance department.
And for some reason, Samsung has decided to go with the Snapdragon 700 series chipset more specifically the Snapdragon 720G which is not much of an upgrade to the Snapdragon 730 which was there on the Galaxy A71.
I admit that the 720 G is a somewhat acceptable choice for the A52 but considering A72 s premium between stature and how competing phones like the Realme X7 Pro has a superior Dimensity thousand-plus chipset and the upcoming Poco F3 or whatever. It would be called will equip Snapdragon 870 the 720 G is a little underwhelming still it. He's a decent chipset for handling everyday hustle. And Samsung is well-known for optimizing its Hardware.
However, this chipset is particularly not an ideal Choice from a gaming perspective.
So I think this is the one aspect where Samsung should have done better even going with the last-gen Flagship silicon strategy, like on the Galaxy F62 would have been more preferable. As for memory, there's 8 GB of RAM with either 128 or 256 GB of internal storage.
Also Check: Samsung Galaxy A72 Price in Bangladesh
Other than that the Galaxy is A72 ships with Android 11 out of the box with its latest one UI 3.1 on top as usual Samsung's UI is well optimized and feels great to use.
Okay. Finally, let's talk about the cameras, and just like last year's A71, the Samsung Galaxy A72 also features a quad-camera set up at the back consisting of a 64-megapixel primary camera, a 12-megapixel ultra-wide-angle lens, and a 5-megapixel macro lens.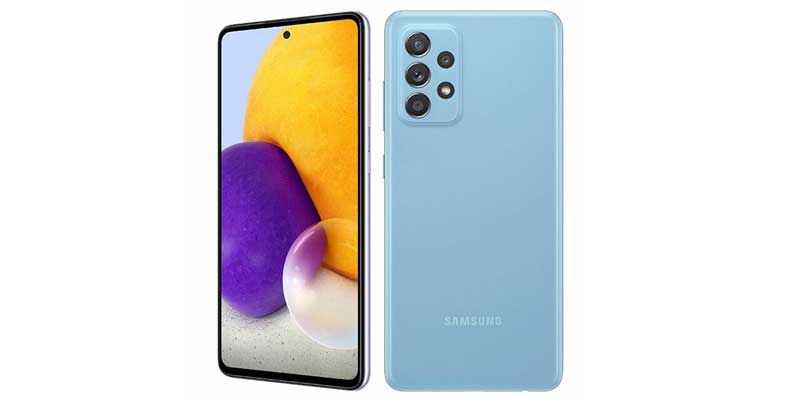 However, this time Samsung has included an 8-megapixel telephoto lens capable of three times optical zoom and 30 times digital Zoom instead of the gimmicky depth sensor.
I haven't been able to click a lot of pictures from the phone yet.
But looking at the few shots of managed to capture. I can see that its cameras look promising.
The primary images have really good colors and ample details, the ultra-wide-angle images are equally pleasing with a wide field of view and even macro photos are not that bad either.
Although it does not have a dedicated depth sensor for the portrait images pretty good too.
All right moving on. The Galaxy A72 features a 32 megapixels selfie camera inside the tiny punch hole cut out upfront as far as the images are concerned. They look pleasing too. In terms of videos. We have options for 4K and 1080p but only in 30 FPS.
So yeah, no 60fps options still. Yet, Samsung has included Ois here and the videos come out quite stable on top of the primary camera.
Even the telephoto lens can shoot super steady videos you Can also click nice Stable videos from the selfie camera up to 4K at 30fps.
Okay, lastly as I mentioned earlier, the phone has a five thousand milliamp-hour battery that supports 25-watt fast charging and unlike Samsung's eco-friendly choice to exclude the power adapter inside the box of its Flagship smartphones.
You do get one for the Galaxy A72. Having used the phone for less than a day. I haven't been able to judge its battery life yet. So stay tuned for the full review where I'll be discussing everything in detail. So yeah, That was all for my initial impressions of the Samsung Galaxy A72.