Hey guys, Today I will share with you Samsung Galaxy M51 Long-Term Review, so stay with me in this review.
Anyways for the past couple of months along with my primary phone, which is the iPhone 12 Pro Max right now. I have been using the Galaxy M51 as my secondary phone. This is kind of a different Taste of a smartphone than what Samsung usually offers in its mid-range segment.
I've always liked Samsung's midranges when it comes to their battery life camera, Action and there are vivid Super AMOLED displays.
However, they have always been lacking in the performance department because of Samsung's audacity to use their in-house Exynos 961 one chipset in almost all the mid-range M and a series of last year with the Galaxy M51. The company has not just included a much better SOC, but they have also improved on their software optimization, which I will get to in full detail in just a minute.
Anyways, how has the Galaxy M51 fared in my long term usage?
And is it the best mid-range phone to buy right now? I will answer all of these questions in this Review.
Design and Display
Anyway on to the review now like always let's start with the design and needless to say Samsung hasn't done anything drastic in this aspect and we have seen this design Choice many times before actually, it just looks like a beefed-up.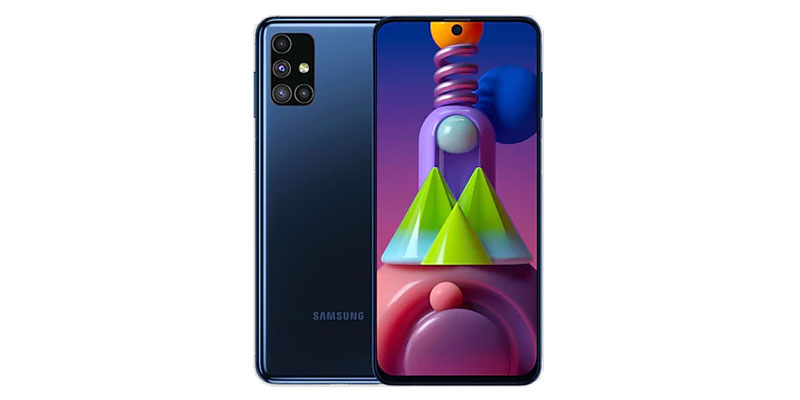 A version of the Galaxy M31 to be honest the back is still plastic with a shiny finish and with the plastic side frames. It does raise some concern about prolonged durability.
Thankfully throughout my usage, the most that has happened is if you scratch on the back and it's surprising how this rare panel is so prone to scratches. I mean I used this phone without a cover just for three days initially and it had already suffered tiny visible scratches at the back. So using a good case is highly recommended from my side.
Okay, while the look of this phone definitely is pretty basic. I wished Samsung brought the gradient design of its A series on the higher and M series models to overall visual Flair is not one of M51's Porte and if you are someone who likes to flaunt a good-looking smartphone, then you are better off with offerings from Oppo or Vivo.
That being said Samsung has always had a good reputation for providing great displays and that tradition continues with the Galaxy M51 as well. You get a big 6.7 inch Super AMOLED screen with a center. Not oppressive punctual got up. It is quite a pleasing display to look at as well. So I've had a great time using different kinds of content on this display.
However, even with its amulet Heritage, you don't get an industry fingerprint sensor here.
Maybe that's part of the cost-cutting process, but I certainly I am not complaining about it because Samsung's implementation of under-display fingerprint sensors has never been the fastest.
The side-mounted one, on the other hand, is fast and gets a correct reading almost all the time initially there were instances where I would struggle to locate the sensor as it is placed a bit higher than I am accustomed to but slowly I got used to it and that's all fine. Now back to the display now, it's fairly bright. So I've had no problems reading or using social media while basking in this winter sun.
However, one tiny complaint that I have which I guess most of us do is that this screen refreshes at 60 hertz.
Maybe Samsung could have included in 90 hurts panel given its direct competition like the OnePlus nod his one yet. The price of the OnePlus nod here in Bangladesh is more than a hundred dollars higher than that of the M51.
Check the Price: Samsung Galaxy M51 Price in Bangladesh 2021
So that's an incomparable issue but in markets, like India, both these phones are priced very similarly. Thus giving the OnePlus nod in Edge, but other than the lower refresh rate trust me, there is hardly anything not to like about this display.
It has excellent contrast and the touch sensitivity is top-notch too. And I have to say that no other Android manufacturer does dark mode better than Samsung. So I quite like what we get on the display side of things here and not to forget the Undisputed.
And amazing battery life that you get on this phone the seven thousand milliamp-hour battery. It has given me no less than a two-day Endurance on my use meaning that I only had to charge it once in two days.
That was with my regular usage pattern wherein I would make and pick calls every now and then write some emails watch a few videos play a game or two along with being active on my social media throughout the day yet. I am not going to lie despite the terrific battery endurance. I wish that the charging speed could have used a little bump though.
Yes, the 25 What power delivery charging is pretty fast but this huge brick of a battery takes one hour and 55 minutes to get Juiced up. So if you forget to charge it overnight be prepared to wait for two hours in the morning.
Performance
Now, let's get to the performance.
Like I mentioned earlier contrary to the Exynos 961 one in more Samsung mid-range phones the Galaxy M51 features Snapdragon 7:30 G, which is one of the popular choices in the mid-range category with this I can finally say that the performance of a Samsung mid-range phone is actually good, plus the company has optimized it's one UI here pretty well as a result. You will get a good user experience on this device is from normal everyday tasks to even multitasking with heavy apps things are quite fluid the Galaxy A71 that shipped with a similar Snapdragon 7:30 chipset is not as smooth as the Galaxy M51, so it's great to see Samsung work on its memory and CPU management for better experience gaming too is a fun ride here Pub T-Mobile runs quite nice. In smooth graphics and Ultra frame rates, all the while being ever so slightly jittery in high frame rates and HD graphics setting still the cheaper Redmi Note 9 Pro Max and the Poco X3 has slightly better performance in Pub g under the same HD graphics and high frame rates.
But again, the difference is a very thin line. So I guess it does not matter so much likewise Call of Duty runs silky smooth, even in a maximum of graphics and frame rate settings. And the best part. Is that even when your game continuously for quite a long time, the phone is still able to Maintain low temperatures and amazing battery endurance.
For instance, one hour of continuous PUBG and Call of Duty gaming only took away 9% of its juice, which is awesome in terms of software the Galaxy M51 runs on one UI code version 2.5 on top of Android 10 and is expected to receive the 1ui 3.0 based on Android 11 in April of 2021 disappointing the I haven't received December security patch here, which I think is one area where Samsung needs to work on more.
Considering the popularity of its non Flagship phones while it has already rolled out one UI 3.0 and December security patch on the premium s in note series of smartphones Samsung's mid-range phone owners still got to wait a while apart from that. I am not a huge fan of the single firing bottom speaker here to its output in my opinion is strictly average in terms of loudness and overall quality.
It does not distort while maxing out the volumes but it does lack depth. Why am I complaining about this is because this phone has such a great display and battery life, so if it was paired with better speakers, this would have been a great multimedia device to okay enough complaints.
Camera
Now, let's get to one of the best things about this phone, which is the cameras the Galaxy M51 has a total of five cameras 4 at the back and one at the front the back houses the 64 megapixel primary 12, megapixel, ultra-wide 5-megapixel deaths, and macro sensors while there are a 32 megapixels Snapper at the front the primary images just like how it is with Samsung phones have that once you undertone that grabs attention at First Sight plus it's HDR function Works quite fine. So you won't get dark images whatsoever as it handles Shadows and Light pretty well furthermore. The details are on point too. So I am quite happy about how the image is turn out likewise, the ultra-wide shots to have great details and dynamic range when compared to the Vivo V20 you will notice that Samsung's Ultra-wide shots are wider, but in terms of colors, dynamic range and details both look, Neck to the neck and not just with the auto wide shots primary images from the v20 compete with the M51 very well. The difference lies in the color tone where the V20 is more yellowish while the M51 has a reddish/pinkish tint, but other than that, I have not been able to firmly decide which one's better even portraits. Look equally good from both the phones.
It's just that Samsung manages to bring out a slightly better bokeh effect in Vivo, otherwise, subjects and background look good on both.
I've not been able to choose a clear winner in terms of selfies both the devices managed to shine in their own ways v20 has a slightly yellowish tone while Samsung selfish look a bit pinkish besides this the details and colors are once again necks to neck actually it all boils down to personal preference to determine the subjective winner among these phones selfie cameras moving on the nighttime shorts have similar attributes just like the daytime once only the color reproduction side of things look slightly different, but other things are almost the same. Now having said that Samsung crops the night mode images comparatively more now getting to the videos. It's quite weird. How both these phones do not support shooting 60 FPS videos at any resolution here. The 30fps footage is under both 1080P and 4K resolutions are well stabilized all thanks to the gyro Eis, but what I can say is that V20 does a better job at maintaining exposure compared to the Galaxy M51 Ultra wide-angle videos over all the galaxies and 51 is a very capable mid-range. Ruffle and just like the Vivo V20 and I'm really happy to see mid-range phones doing so well in this category with Xiaomi bringing a whooping 108-megapixel camera sensor in its latest Mi 10i I things are going to get even more competitive in 2020 one's mid-range Market. All right other things such as the call Quality and network reception have never disappointed me in any way it's been around two months that I have been using this phone and I have not received even a single complaint from anyone from the receiver's end. So, that's great.
Conclusion
Summing it up, I think the Galaxy M51 is a great mid-range smartphone with Samsung finally offering a competitive chipset and well-optimized UI the future looks very promising for the M Series unless there are more Exynos 961 one powered units.
Okay, jokes aside. I am really excited about Samsung's new M62 smartphone and the upcoming S21 Series. So I guess that is all for my Samsung Galaxy M51 Long-Term Review.