Vivo V20 Smartphone Review & Detail
I have the New Vivo V20, which is the latest V series smartphone to launch and I think Vivo has improved a lot with this phone starting with the pricing itself.
Vivo V20 Price in Bangladesh at 32,990 Taka. It's also better than the Vivo V19 with seems like a step forward in the right direction is especially considering the competition created by the OnePlus Nord and the Realme 7 Pro.
Vivo V20 Design and Display
Anyway, let's talk about the design of the Vivo V20 first which I think is the best part of this phone.
It's really gorgeous. And this Sunset Melody variant that I have with me is the best of the bunch. It changes its Hue from golden to blue and this gradient finish is just mesmerizing this anti-glare math class also makes for an exceptional grip and the phone is surprisingly not slippery as one might think furthermore. This pack is resistant to scratches.
Whereas the anti-fingerprint coating gets rid of almost. All of this module is that would normally be there and the ones that manage to make their way on the panel can be taken care of with one swift wipe. It is also really lightweight and slim with a subtle 2.5 D curve through the edges, but the caveat here is the rectangular rear camera module which will make the phone wobble when placed on a flat surface, but all is well by slapping in the clear case that comes inside the Box.
Anyway, the phone has a plastic frame with a glossy finish.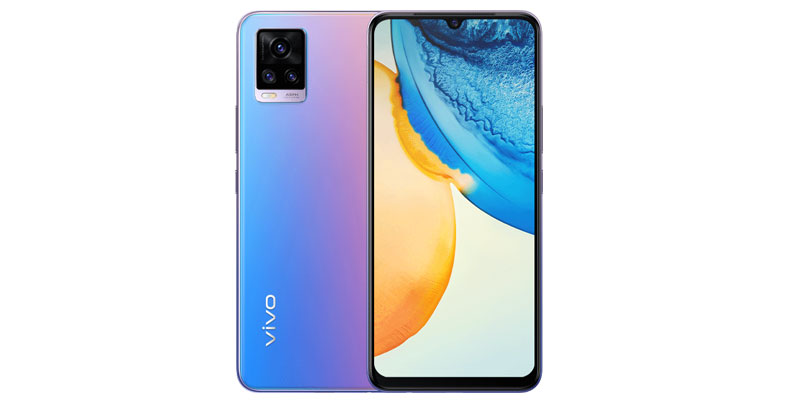 Although aluminum would have been mine. My ideal Choice interestingly the power button here is also textured so you can always tell when you have your finger on it. The buttons are incredibly well placed and I could therefore easily reach them with no trouble. V20s weight distribution is excellent as well. And overall. I think Vivo has nailed the design aspect of this phone. The only thing I wish this phone had was an IP rating of sorts seeing how the much cheaper Poco X3 manages to pack in and IP 53 certification.
All right moving to the front of the phone. As a 6.44 inches if HD+ AMOLED display.
This is neither compact nor too big to be absolutely pocketable, which is another win for the V20. I'd say still the company could have definitely work to bring down the bezels because Frankie they disturb the harmony of the phone's overall Aesthetics.
It's also quite odd that we were have gone with a traditional teardrop Notch seeing how they were arguably a Pioneer in introducing Innovative motorized mechanisms in its early V series of smartphones. And disregarding all of these. I must say that the display is excellent in itself.
Since it's an AMOLED panel, you will be able to enjoy darker darks and brighter whites. Thanks to the incredible contrast ratio talking about the core panel itself.
Everything's a plus here. Although a higher 90 hits refresh rate would have been even nicer.
I did not notice any sort of discoloration around the edges either the colors are vibrant and the screen can get plenty bright even when you're in a brightly lit environment similar. Literally, the professional column word in the display settings caught my eye to my surprise watching sitcoms under this option with moderately muted Hues was quite fun objects and human subjects looked a lot more natural and easier on the eyes. So yeah, that's neat.
It also comes with a screen protector pre-applied which is something that is always nice to have but here it also feels more like a mere compensation for the lack of a gorilla glass protection of any kind V20's display is also the house to an optical in this fingerprint sensor.
Vivo V20 Performance
It does demand a little bit of pressure to get it working. But once you do it works almost every time now while the design and display of the v20 a pretty stellar if the history of V series smartphones is any indication their price to Performance ratio has never been good and the same is with the Vivo V20 as well. It is powered by the Snapdragon 720 G chipset which you can find on cheaper phones like the Redmi Note 9 Pro, and for a similar price as the V20 you can get the OnePlus Nord there. Comes with a more powerful Snapdragon 765 G with a 5G model.
Whereas the Realme X3 comes with last year's Flagship SOC the Snapdragon 855 plus but the Snapdragon 720 G on the Vivo v20 is still a good upgrade over the Snapdragon 675 that powered the last generation. Vivo V17 Pro and the v19 likewise the optimization that we were done with this phone is quite good and hence. It did not disappoint me in my day-to-day usage paired with 8 GB of RAM or me either 128 or 256 GB of storage memory on this phone wasn't an issue either when it comes to gaming the phone maxes out at high frame rate and HD graphics and PUBG Mobile and here I did not notice any major starter or lag, even though the way the game renders graphic elements feels a little bit weird on the other hand.
The gameplay is pretty solid with an average of 40 to 45 FPS on the other hand the OnePlus Nord can push to ultra frame rate and HDR Graphics a tier above what the Vivo V20 can do similarly optimize games like Call of Duty mobile can be cranked up to Max frame rate and high graphics and the gameplay is extremely smooth other relatively light games like PES 2021 Injustice to clash Royale Etc run without a problem either the heat Management on the Vivo v20 is pretty impressive as well. Although it does not have the vapor chamber liquid cooling technology. Like it's Pro sibling. The phone does get a little warm after half an hour or more of gaming but it cools off pretty quickly, too.
Vivo's custom skin to Android Funtouch OS has always received harsh words of criticism and deservedly so but surprise surprise the latest Funtouch 11 based on Android 11 is ridiculously good. I mean, it's crazy good. It's almost a complete overhaul from the previous version and to my liking, V20 has heavily leaned into a stock Android look and feel while Inspired by OnePlus is oxygen OS looking into the settings. You will notice how similar both these you guys are when it comes to core functions, but the camera you guys are different and well, I find not to be better because it's simpler while we made you do a little more hard work.
However, there are some useful features baked inside the van tortuous 11, like the new Ultra game mode, which optimizes system resources blocks notifications, and helps better gameplay.
There's also a sweet shortcut where you can shake the phone. Phone to activate the torch just like on Motorola phones, but weirdly it does not turn it off and because it is based on Android 11, you will enjoy different Android 11, exclusive features, like bubbles built-in screen recording Etc weird enough.
Also Check: Vivo V20 Price in Bangladesh and Full Specifications
The revamped power menu on Android 11 takes abnormally long to activate on this phone in more recent years. We were have confirmed the origin OS which is supposed to be a complete redo of the Vantage OS I can only hope that this new Android skin from people abides by the current version of Vantage OS and does not try to do anything extravagant.
Vivo V20 Camera
All right, it's time to talk about the cameras.
Vivo V20 has a triple rear camera setup with a 64-megapixel primary sensor and 8-megapixel Ultra wide-angle lens that also takes macro images.
Whereas the 2-megapixel monochrome lens lets you take fun black and white photos and videos here the regular images from the 64-megapixel sensor a great.
They look vibrant with a hint of warm tone that looks pleasing to the eyes comparing it to the One plus nodes 48-megapixel primary sensor its neck to neck both lenses take 4 in 1-pixel wind images by default and the photos look almost indistinguishable with comparable dynamic range.
However, images from the v20 tend to have slightly better sharpness and popping colors.
Similarly, the detail preservation and color balance are also better on the Vivo V20, But once again, let me remind you the difference I'm talking about is marginal to the core taking a look at the respective High. Shots from the two phones one can clearly see how Vivo V20's 64-megapixel lens is capable of taking sharper clearer images with Incredible details, the wide-angle images are similar on the V20 and Nord to steal the latter maintains better highlights and has a wider dynamic range while the v20 manages to generate photos with punchier colors like before moving on to the portrait shots. V20s look Lively right away while not makes them look a bit dark, although you will notice Vivo doing a bit of smoothening on the subject the person in Focus does look good. So I am not complaining both the phones manage background HDR very well though, but if you ask me to choose one, I take v20 smooth and punchier portraits over the slightly costly ones from the Nord any day coming to the front Vivo V20 equips a 44-megapixel selfie camera, whereas the opposition has a dual selfie camera setup consisting of a 32 megapixel primary and an 8-megapixel Ultra wide-angle lens v20 is a clear winner in terms of regular selfies as its background exposure is miles ahead and the photos look Lively with a warm color tone portraits herpes, on the other hand, are alike in terms of bokeh effect. And the overall image quality v20 is also the first smartphone to come with I autofocus function for selfie photos and videos as opposed to the face autofocus that we usually see on smartphones.
Okay. Let's take a look at the nighttime images. Now here are the superior Spectra 355 is p of the OnePlus Nord shows while it Capable of as evident from these shots both normal nighttime and the night mode images on the Nord have better sharpness with minimal noise this by any means does not mean that the night shots are terrible on the v20 as it does have better colors and one can even say that the highlights are better maintained on it in the wide-angle light time shots though. The exposure seems better maintained on the v20.
But again, Nords images are sharper in the wide-angle night mode to not can maintain slightly better details. It to the v20 video-wise that Vivo V20 can shoot up to 4K at 30fps recordings from the rear cameras and you can take videos from the wide-angle camera as well. The video is turned out to be well stabilized on all the resolutions.
So that's nice making use of the 2-megapixel monochrome lens. You can also shoot fun photos and videos where the subject stays in color while the background turns black and white.
There's also the option to take bouquet videos and the Dual video mode lets you record footage from both selfies and or the primary winding Wide-angle lens all in all I think the Vive v20 is a capable mid-range camera phone for both photos and videos.
Vivo V20 Battery
Getting to the battery the Vivo V20 equips a moderate 4000 mAh hour to sell on paper. It does not see much. I know but you'd be surprised to learn that I consistently managed to get around 7 to 8 hours of screen on time on this phone.
Normally. I'd have the phone at about 50 to 60 percent brightness with the always-on display turned off and my usage mostly consisted of gaming binging YouTube. Switching between multiple social media apps so suffice to say that V20 can easily last you a day with some juice to spare.
Also, the overnight battery drain on this phone is pretty minuscule. As I recorded only a loss of about one to two percent battery every day when it comes to charging the phone supports a 33-watt flash charge, which is super fast in terms of audio the call Quality from the beaver V20's great. So no complaints there the single firing bottom speaker here is not that impressive though. I'm I mean, it is good enough for casually listening to podcasts or such but don't expect anything with deep bass or which details from the speaker's we were also ships a wired earphone Inside the Box the are tips are shaped like apples classic airports, and there's also a microphone and a playback control button its audio is decent loud enough with a fair amount of base and details, but nothing mind-blowing in conclusion.
Conclusion
The Vivo v20 is a classic mid-range fever. And done better to the point where it almost makes perfect sense for the mainstream consumers.
This phone does what Vivo does the best that is giving one of the best designs and reliable cameras, but like always we were does not seem to have placed a lot of importance on Performance had the company given a better chipset and a higher refresh rate display.
This would undoubtedly be one of the top choices for mainstream consumers having said that I am happy to see that Vivo has finally listened to the complaints regarding the UI and made a huge leap. This new user interface will certainly lower a lot of previously unsatisfied customers that Vivo had and with a little more focus on the performance Department. Vivo can certainly be a tough competition to the currently ruling kings in the smartphone industry as for the Viva v20. It is an exciting device and certainly worth checking out.